Spoilers
Lots o' questions
Well, another most excellent episode I thought although once again I was confused.
Sayid said he was The Torturer. I think he started his career as an "information gatherer" when he got the location of the pilot for the American soldiers. Then they let him go. I presume he went on to his new career for the Iraqui army after that, but how could he go back to the army after torturing his comanding officer? Wouldn't someone have found out he worked for the Americans?
What are they doing to some of the characters this year?
Jack - last season he allowed Sayid to get information out of Sawyer - one of their own - with out much compuction - and Sawyer didn't even have the medicine yet last night he was willing to risk the entire world to save someone from Sayids brand of "information gathering" who was probably guilty. I don't get that.
Sawyer - what are they doing to his character? Last season he was a bad boy but showed signs of good underneath but not this season. Last week he ran a con and stole the guns, last night he squished a frog.
John Locke - how does he manage to keep his white T-shirts so clean?
The guy they captured - I'm thinking he is definetly one of the others.
For a deserted island, there sure are a lot of different groups and people running around. We have the front part of the plane people and the tailies, although they've united now. We have The Others. We have Danielle. And we have the guy, whose name escapes me, who manned the hatch.
And in other Wednesday night television news:
I know who I'm going to be cheering for on American Idol. Is Ace a hottie or what? I don't know if he can sing or not, but he sure will look good in the trying. I was fanning myself right along with Paula last night.
The other contestant sure was right - he is pretty.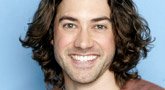 Not a very good picture but it's all I could find on short notice