You will find a couple of pictures of her books down the side bar. Archer's Voice as SO good that I knew I had to read more of her books. And every one I've read since then has been equally amazing. I have three more besides the following books yet to read. I started reading Kyland, but I didn't have any tissues with me. I was barely into when I knew it was going to be a tear jerker of the highest degree. I'm just waiting for a time when I'm ready to read something that emotional. I also have Becoming Calder and Finding Eden and I honestly don't know why I haven't inhaled them yet. That will happen very soon. I'm looking at my grades of the ones I have read and each one is 5 out of 5. You can't get a whole lot better than that can you?
Leo
by
Mia Sheridan
I've read a few books by Mia Sheridan and I've LOOOVVVVED them. I read Leo last year but failed to do a review. Well, I simply have to fix that as I want everyone to give at least one of her books a chance. And since I didn't want to do a review on Leo from memory, well I had to read it again didn't I?
Boy oh boy does Ms. Sheridan excel at writing emotional books. She makes the characters so real, you feel what they feel, you hurt when they hurt and you feel joy when they feel joy.
Evelyn or Evie has had a real rotten life. She was taken away from her drug addicted mother when she was young and put into foster care. She lived in a number of foster homes and they were negligent at best, none a good loving home. She wore hand-me-downs and was bullied at school. Her one bright spot was Leo. He was her best friend, her protector and light in a dark world. At first they are both in the same home, but then they each go to a different home though they keep in close touch and go to school together. Then Leo is adopted and his new family is moving to another state. They are just at the threshold of experiencing deep romantic feelings for each other and vow to stay in touch until they are both 18 and can be together.
Told entirely in the present tense, first person from Evie, we can feel her love for 'her' Leo told in flashbacks throughout the book. We feel her pain and confusion and loss when she never hears back from his after he leaves.
The book opens years later. Evie has made a good life for herself. While she doesn't have a sterling type career, she is content to work as a maid at a hotel and working part time in a catering business. Considering where she came from, she is living a good life with good friends. When the book starts, she is noticing she has a follower, some guy is following her around and when she finally tricks and confronts him, she sees he's an extremely good looking guy named Jake. He tells her he was a friend of Leo's who asked that Jake check up on her. Evie quickly picks up on the past tense and calls him on it. He tells her Leo died in a car accident and Evie is devastated. But there is a connection between her and Jake and it develops into a deep love. I'm not going to say anything more on the story itself to avoid spoilers. But what I will say is Evie is SUCH a wonderful heroine. She has retained an innocence despite her childhood and look for the best in everyone. People are naturally drawn to her from the gruff neighbor in the apartment across the hall to an old neighbor where she lived for a while during her childhood. She is kind but in no way annoyingly so. She is a special kind of person but doesn't see herself that way.
Jake is a great hero – for the most part. He gets a bit pushy with Evie in a couple of places, but there is no doubt he is completely and utterly hers for the asking. He's rich and successful and he just wants to help Evie, though Evie doesn't want it. This isn't a long book but oh, it is mighty. For me, it richly deserves the five stars I'm giving it. It's the first of two closely connected books – but I will let you figure out what the other book is.
Archer's Voice
by
Mia Sheridan
I have found some real gems written by lesser known, epublished authors and my, oh my is Archer's Voice by Mia Sheridan one of those real high quality gems. This book just hit all my treasured book buttons. Wounded hero – check, interesting and different story – check, good heroine, check, interesting secondary characters, and check!
Bree Prescott is running away from some bad stuff in her life and lands in the small town of Pelion Maine. Her father was murdered in front of her and his murderer then attempted to sexually assault Bree. She suffers from PTSD with bad flashbacks. She settles into Pelion, gets a job as the morning waitress at a local diner and begins making friends. She meets our hero Archer Hale when she drops her purse in front of him, loses all the contents and he helps her pick them up. She is fascinated with this silent, scruffy young man and begins asking around town about him. His story is devastatingly sad. He came from an abused household and when his mother and uncle try to run away together, they are killed along with his father in a car accident in which he is a passenger. As a result of the accident, his vocal chords are damaged and he is unable to speak. He was raised after by his loony, paranoid uncle and after his uncle dies is alone. He lives in a house out in the woods and has very little contact with the people of the town. Most of them think he is simple but Bree, after visiting his home in the woods, discovers that he is, in fact, a very intelligent man and because her father was deaf, she can communicate very well with him through sign language which Archer taught himself through books. Because he has been so isolated all his life, he is very naïve and innocent and wary of others. He reminds me in some ways of one of my favourite heroes', Michael MacNeil from Patricia Gaffney's Wild at Heart, a book I've read numerous times.
Bree and Archer slowly fall deeply in love, though there are complications, one of them being Travis Hale, Archer's cousin and a local police officer. He wants Bree for himself and is willing to play nasty tricks on Archer to achieve this.
I love, love, love this book and I know I'll be reading and rereading it. Archer is a simply breathtaking hero and I adore him. He breaks my heart and I had to put the book down a couple of times just because I felt his pain so deeply and had to take a couple minutes break. When I put a book down for that reason – well – it's a goooodddd thing.
As much as I adore and love Archer, I also love Bree. She has her own demons to deal with and she and Archer help each other through some of them. Other than one instance, instigated by Travis to cause trouble, when she isn't sure about something, she talks to Archer about it so other than the one understandable one, there are no big misunderstandings that can so frustrate a reader. And like Michael MacNeil, Archer is a virgin hero and Bree is the one with more experience. After things are straightened out though, things progress along very well.
I know not every reader goes along with this kind of idea, but to me, Archer and Bree are soul mates, destined to meet and complete and heal each other. And again I know this one may not work as well for every reader as it's a sweet book – not in a sickly way – not at all; I can't stand those at all myself, but more as a tender way. This book hit all my requirements for a keeper book and when I finished it, I knew I would be revisiting Archer and Bree. Soon.
This book is written in first person with alternating POV, though more of them are from Bree's. I've quite gotten used to this style now after skipping it for years and you CAN teach an old dog new tricks. I like this style
I think this may be categorized as Young Adult as the lead characters are both quite young. I have read a number of this genre now and can quite honestly and happily say that even though I am far, far, far from a young adult - not even my children would be called that now, I am really enjoying most of what I've read so far. Keep them coming! I first read about this book on All About Romance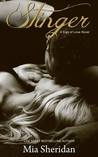 Stinger
by
Mia Sheridan
Hmmm - I didn't do a review on this one - what an oversight. I shall have to try and do one from memory.
Grace Hamilton was the girl with a plan. She knew exactly where her life was going and prided herself on always achieving her goals. It was who she was, and how she lived her life. She never stepped outside the lines, and never considered what she might desire and whom she was actually trying so hard to please. Until him . . .

Carson Stinger was a man who didn't play by any rules except his own. Working in the adult entertainment industry, he didn't care what others thought, and took each day as it came, no direction, no plan. He knew what women wanted from him and believed it was all he had to offer. Until her . . .

When circumstances forced them to spend several hours together, they walked away changed. But for two people who never should have meshed, overcoming the reality of their vastly different lives wasn't possible. At least not yet . . .
I found this book unique. For one thing the hero was a porn star. Well, he wasn't exactly a star, he'd only done one or two movies, but he did intend to make a career of doing this. But a chance encounter with Grace had him reconsidering his whole life. They met a conference in Vegas; she was at a lawyer conference and he was at an adult entertainment conference. They were drawn to each other right off the bat and ended up spending the weekend in a conference of two. This was NOT how Grace rolled and at the end of the weekend, they walked away from each other. But neither forgot the other over the years and as I said earlier, this was a catalyst for Stinger to do a 180 in his life. He joined the Marines very shortly after and went on to become a SEAL.
He does drop in to see Grace but sees her with another man and figures it just wasn't meant to be. They run into each other a few years later. Stinger is out of the armed forces and working kind of under the law helping young women. When he and Grace meet again, it's almost as if the years hadn't happened. The feelings were still there and while there were still obstacles, they slowly overcame these while working together.
Now that I've just written this it reminds me it's been a while since I read this book and now I know what I'm going to read when I get home!!
Leo's Chance
by
Mia Sheridan
I tried very hard not to give any spoilers in Leo, but if you are reading this, then the cat is out of the bag. Yes, Jake from Leo is indeed Leo and this is his side of the love story between Evie and himself told entirely from his POV in first person.
Many of the scenes are exactly the same as in Leo, even down to the same conversations and one might think this a waste of time. Such a one would be mistaken. Instead I find it adds richness to their love story, seeing the same scene from both sides. And Leo doesn't seem to be quite so bossy with Evie as he does in the first book. I think it's because they are in such different places in the relationship. In Leo, which is Evie's book, it's a new connection with Jake, so some of his requests/demands seem kind of dictatorial, while in Leo's Chance, Leo is completely aware of the relationship and it's a long one. He's always been very protective of her.
In Leo, we get to 'hear' what happened and why he didn't keep in touch with Evie when he tells her near the end of the book, but in Leo's Chance, we get to feel what he felt, how it damaged and warped his sense of self-worth and while we may not agree with why he kept his identity a secret, we at least understand him better. We feel the impact sexual abuse can have on an already damaged soul because the story is told in first person.
Having this story told in two books with two different points of view gives it an even deeper quality to a very well written emotional read. I'm in awe of how Ms. Sheridan grabs the reader and seems to take us right along on the journey with the characters. I get more emotionally involved with her books, certainly this one then many another book and that's a very good thing. Another well written five star book by this author.
~*~*~*~*~*~*~
Update
I don't know why I never got around to actually posting this one. I did write it quite some time ago. I think what happened is I started it, realized I put it to bed for a while so I could reread Stinger and then a review of it and then post.
In the meantime I have 4 more books by Ms. Sheridan. I started one of them Kyland, but had to put it aside for a bit - in a completely wonderful way. It was SO well written that I was feeling the despair of the hero and heroine and as this was when I was in my depression, I couldn't take it at the time - feeling it too much. Now that I'm doing better, I plan on going back to it.
I also have Finding Eden and Becoming Calder to read. I think depression and feeling an amazingly realistic emotional read was too much at the time. So I also have them coming up.
And I've just written a review of her newest book, Grayson's Heart. I was about to post it and I was looking for the link to the Archer's Voice I had done, only to discover I still had in draft!!
So here you go - One of my VERY FAVOURITE NEW TO ME AUTHORS