Mailyn recently asked in Romancelover's blog why anyone would find that time period romantic. Well – in real life it would probably be pretty rough (but then unless you were a member of the ton could not the same be said for Regency England? Or early Upper Canada or the prison life in Australia – or anywhere for that matter before they had indoor plumbing, automatic washer and dryers and microwaves) But! In Romance land where things are rose coloured, a good western romance is a mighty fine thing. But before we get to the books, we need visuals, and what better than movies or TV.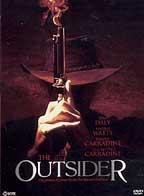 First stop on our visual tour would be the recent Hallmark movie The Outsider. Tim Daly as a wounded gunslinger who falls in love with a young Amish widow. Yum, yum, yum yum yum! This movie had such a sexy love scene (I must watch it again!) And best of all, it's a very well done adaptation of a most excellent romance book by Penelope Williamson (aha! Another author of whom I have just about all of her backlist).





Now we move back a few years ago to Last of the Mohicans.
While not exactly a western, was there anyone hotter than Nathaniel aka Hawkeye? That scene with he and Cora on the building top *shiver * I'm thinking there are others that might agree with me on this one.

Now we go further back to Legends of the Fall. Overall I didn't care for the movie and since then Brad Pitt has gotten almost as nutty as Tom Cruise. Angelina is certainly leading him around by his……nose. Yea that's it, she's leading him by his nose. I mean Namabia? He's going to allow his kid to be born in Namibia? Ooookay – that's not a place I would pick – but to each their own I guess.


But anyway – back from the distraction – in this one scene, where he rides up and tips his brim to Julia Ormond – .
I kid you not when I say there was a noticeable gasp from the female half of the audience during THAT scene. Love him or not, like long hair or not, if only in that scene he was major hot.









For our next example of why we might like a western hero, we need to get into Mr. Peabody's WAYBAC machine.



I don't know if it's out on DVD or not, but a DO NOT MISS movie for the western fan is Butch Cassidy and the Sundance Kid. This is a classic movie!! Funny with great actors it is. I'm still, to this day though, in denial over the ending. They DID get away from the Bolivians! They

did!
But even if you decide to rent the movie and it's just not your cuppa, you have to watch long enough for the bedroom scene with Robert Redford (the Sundance Kid) and Katherine Ross (Etta Place). Oh man!!! When he holds the gun on her and tells her to take it off – quick! I need a fan. And ice cubes! I just wish I could get my husband to play The Schoolmarm and the Outlaw. I could get him a toy gun – I could be Katherine Ross ahem – back to topic.

Now we are getting back into the WABAC machine and going back into TV history. Many of you readers – it's before your time, but hands up everyone older who didn't have at least a small crush on Little Joe of Bonanza? Ahaa – very few hands. I happened to catch this show not too long ago and could not believe the hoakiness of it all – but back when I was a little one, Little Joe was sweeeet!

Renee, Kristine, I think you may remember him "grin" And if by any chance he didn't lure you in, then surely Candy (now playing Adam Chandler in All My Children) did. And of course I already mentioned the two Bolt brothers and James West in my Kristie's Crushes blog.


Final stop on our visual tour – none other than Clint Eastwood. Many, many years before he trained whatshername to be a boxer, he was Rowdy Yates, yummy, yummy mysterious cowboy on (Move 'em on, head 'em up, Head 'em up, move 'em on, Move 'em on, head 'em up,) Rawhide


I managed to find a
website
with the theme song! *yes fist pump * Loved that little ditty. Be sure to turn your speakers up and listen along to one of the coolest TV jingles!!

Anyway – now that I have given some examples of whom I think make fine western type heroes its time to say what makes them good hero material. What is it about them that is so appealing? Well, as I said in reply, Western heroes seem to me to be more manly man type heroes. I think if you are a fan of the alpha hero, there would be many more alpha heroes to choose from in the Old West than there would be in other locations. And if you are a fan of the lone wolf hero, then the Western is your genre! I imagine after spending that much time in the saddle, they would be looking for a little female companionship. And who can resist a wounded outlaw type hero? Seriously – all you Western/Lost fans, can't you just picture Sawyer in that role (and let's see – me as Etta Place – stop it Kristie)
And if you go for the more law abiding type hero, who better than a marshal? No, no, get Matt Dillon out of your heads – he's not a good example *shudder * He kept Miss Kitty dangling way too long! And he just wasn't handsome. But Jack maybe? With Sayiid as the mysterious bounty hunter? Yeah, I like that.

So – I'm throwing down the gauntlet! To Mailyn and anyone else who has never read a Western, if Sybil (who is probably looking around thinking "huh, how did I get involved in this?" – well it's cause I know you love a good western too and would love to help spread the word!) and I can come up with some prime examples of a classic Western romance, will you give it a go? Those willing to take a visit to the Wild West – well just sign up pardners!

Now before I say so long - one last picture. It really has nothing to do with the topic - but I was just so thrilled to find this one, I just had to include it. This is the scene that contains my all time favourite movie quote!




'til later